Digital Currency
Where to even start to sum up the year 2020. COVID-19, a short bear market, Tesla stock to the moon, and crazy politics. Or should we move on and focus on the future? We decided the future would be a better place to focus our time and energy.
A few years ago, we wrote about Bitcoin and that we did not believe it should be categorized as an investment (nor should any currency for that matter). Currencies are purely speculative. That being said, Digital Currency is becoming a larger and larger part of the global economy. We thought it would be useful to understand the mechanics of how digital currencies work and how they can be used.
We listened to a recent podcast where a investor called Merrill Lynch and was asking how to buy Bitcoin. The caller was bounced all over Merrill Lynch and Bank of America for about an hour and never got a straight answer from anyone, other than they were not sure how to do the transaction with Merrill or the bank.
So how would you buy digital currency and use it if you were so inclined?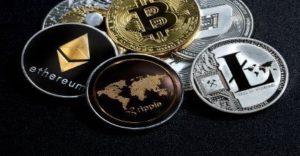 The first step would be to go to a Digital Currency Exchange. For example, you can go to a site such as www.crypto.com. Very similar to opening an account at any other financial company (banks etc.) You can also use your smart phone to download the application. They will verify that you are a real person with multifactor security and request an official government ID, such as a drivers license or Passport. From there you will be required to wait a day or two for official verification.
Once your account is established at the Exchange, you can then link your normal checking account to the digital currency account. For example, you want to buy $100 of Bitcoin as of today. You would transfer the $100 to the exchange and receive a fractional amount of Bitcoin. Very similar to buying Euro's when traveling to Europe.
You can then use this digital currency to buy goods and services all over the world. Your phone will produce what is called a digital QR code (Quick Response Code) and you would have a vendor scan this code as payment for the item or service.
We have always been skeptical about digital currencies and continue to be very cautious, but they are becoming more and more mainstream and you can make the argument it is a store of value like gold. The digital currency has a limited supply, not "paper" money whose supply governments are increasing without limits. We are not recommending clients buy digital currency, but we believe understanding them is important.
Stay safe and healthy in 2021!
The Creekside Team,
Andy, Teresa, and Mike