The Fed and QT?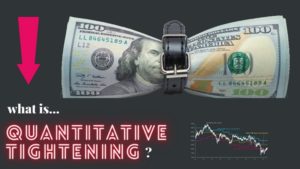 We have had a fair number of clients ask what Quantitative Tightening is, so we decided to delve into the basics.
The technical definition of Quantitative Tightening (QT) is:
Quantitative tightening (QT) refers to monetary policies that contract, or reduce, the Federal Reserve System (Fed) balance sheet. This process is also known as balance sheet normalization. In other words, the Fed (or any central bank) shrinks its monetary reserves by either selling Treasurys (government bonds) or letting them mature and removing them from its cash balances. This removes liquidity, or money, from financial markets.
In more straightforward language the US and Global economy have had the equivalent of IV tube stuck in their proverbial arm since the beginning of the pandemic three years ago. This was considered Quantitative Easing. (Zero % interest rates, Fed buying bonds to keep rates low, stimulate housing etc.)
Over the last 12 months the IV tube has been removed from the Global patient and the stock and bond markets reacted strongly in the negative direction. The free money punch bowl was taken from the party.
Short Term Interest rates have gone from 0% to 4.25% in the last year
The Fed has been shrinking its massive balance sheet by approximately 95 billion per month by letting Treasury and Mortgage bonds mature.
We expect the US economy to stabilize in 2023 (Fed will slow or stop raising interest rates), but there will continue to be plenty of volatility.
We realize the last year has been painful as an investor, but we do believe QT is the right decision for a healthy long-term stock and bond market.
Do not hesitate to reach out with questions.
The Creekside Team